Steed Retires


(2/9/11)

Steeeeeeeeeeeeeeeeeeeeeeeeeeeeeeeeeeeeeeeeeeeeeeeeeeeeeeeeeeeeeeeeeeeed Malbranque
Thank you for the memories.
UPDATE (3/9/11):
According to reports in France, the 31-year-old player has decided to hang up his boots in order to care for his son, who has been diagnosed with cancer. [
Metro
] Sometimes there are things more important than football. These life changing moments put everything in perspective, no matter who you are.
UPDATE (5/9/11):
Steed, who I was very kind and understanding to (see previous):
"would like to reassure all of his friends in England and throughout world football that these stories are wholly without foundation. Steed does not have a son and his immediate family are all in good health. Steed does not know the origin of these stories but would like to stress that they are without merit."
Okay. That's a relief because I can now go back to calling him a (former)
Sad Mackem Bastard
. He left Fulham to go to Spuds and achieved nothing. He should have stayed where he was truly loved.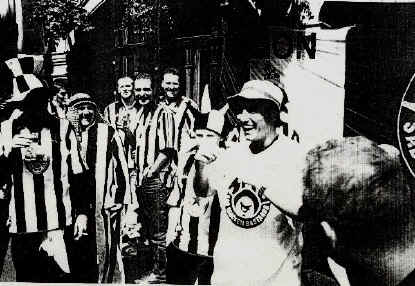 Fulham Legend Clarke with an even more Legendary T-Shirt
Us footie fans are fickle and have long memories. Rationality, compassion and understanding are as alien to football as English was to
Julio Geordio
when he first signed for Newcastle. The silence only ever lasts for a minute.
Julio Geordio
Starts at 5:50